The Virtual Reality Oracle at Bristol Museum and Art Gallery
First published: Wed 10 Aug 2022
The Virtual Reality Oracle had a phenomenal week in Bristol Museum and Art Gallery at the end of July.
The team were housed in the Assyrian Gallery of the museum, where we set up our information panels and welcomed museum visitors back in time to the site of Dodona in the fifth-century BCE.

All our bookings were filled; passing interest was very high and we were also able to squeeze in some additional viewings. Altogether, over the four afternoons and morning that we were there, 74 museum visitors saw the VRO.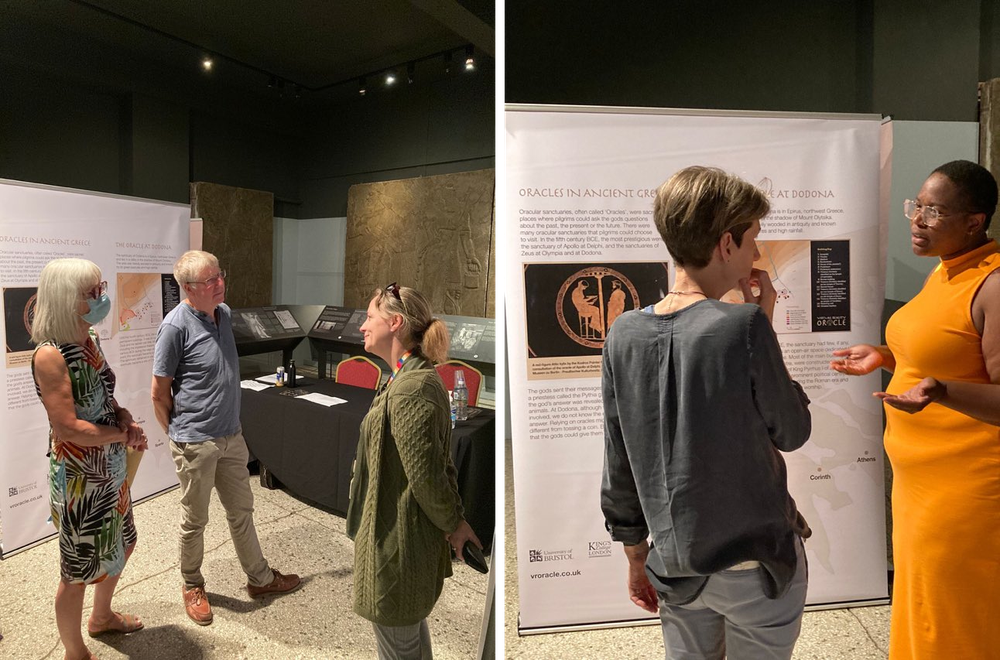 Our visitors ranged in age from 13 to over 65. The response was overwhelmingly positive, and most people felt that it had changed their view of the ancient world.
'Provided me with a lot of insight into people's lives at that time and the importance of so many gods to them. My favourite scenes were under the oak tree'

'It was wonderful to feel like you were 'living' among the ancients!'

'It brought in the colour and made everything so real and vivid. No white marble ruins. Real people, their lives, food and clothing and their problems.'
Visitors told us how much they enjoyed meeting the characters at the oracle—and witnessing their stories—one person said her visit included 'a real EastEnders' moment'. Many people felt a strong sense of spirituality.
'Change of perspective helpful to think about ways 'normal' 'lay' people related to divinity and spirituality. Made the 'ancient' feel 'modern'!'

'This experience has made me very interested in Greek history as I was surprised about many facts - e.g. I didn't expect women to be the ones who spoke for the divine.'

'It made me realise how people would interact with the oracle and the types of signs they would see.'

'It was interesting to see how people from the ancient world struggled just as much with moral and spiritual demands, and looked to religion as a form of reassurance much as we do now.'

'I never saw such a calming representation of the ancient world.'
Even for those who already knew about ancient cultures, their feedback showed that they had gained a new perspective on it.
'Tend not to think of it in terms of colours, senses, and experiencing it as 'lived-in', so it was great to encounter it in a more immersive way.'

'I know that ancient Greek people were spiritual but living their expectations (i.e., the ex-slave) was intensive.'

'The personal stories, the visceral quality of the environment, the combination of hubris, spirituality and longing was really striking and felt relatable now, despite the ancient context.'

'I have been to many ancient Greek sites, including Delphi, but the VR helped to bring them alive.'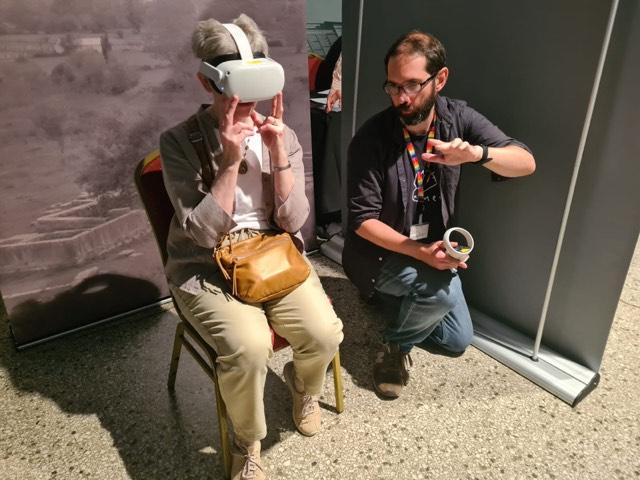 Finally, a quick note for the future: We had some visitors who were under 13 years of age, who were too young to see the VRO using the Oculus Quest technology.
To all those visitors and their parents--we will be in We The Curious in early 2023--and will be set up so that people under 13 can visit Dodona, as well.
Look out for details on this website!