Experience the Virtual Reality Oracle
The VRO experience takes place over three 'visits' that each explore several themes relating to the oracle of Zeus at Dodona, the ritual of divination and the people who worked at and visited the site.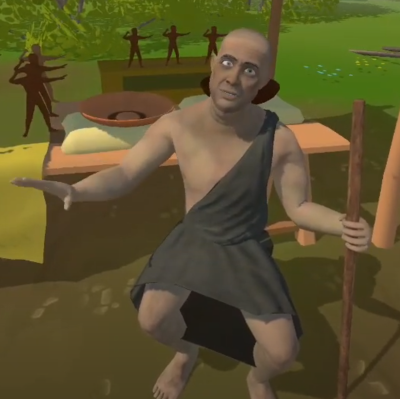 Visit 2
Meet Diodorus the old soldier and see Xanthias, who escaped from slavery, reunited with his sister; ask your own question of the oracle.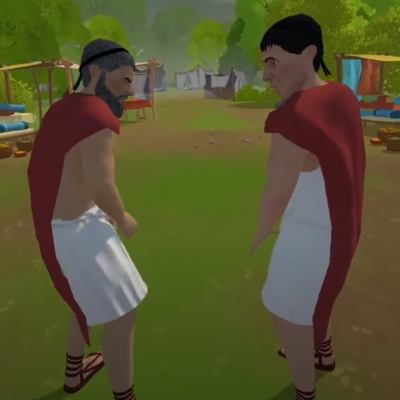 Visit 3
Meet two Spartan brothers worried about murder; hear from two traders in trouble and learn what Dorios the spirit raiser can offer.
Get the Virtual Reality Oracle
The Virtual Reality Oracle App is compatible with the Meta Quest / Quest 2 virtual reality headsets, and most Google Android smartphones.
VRO for Meta Quest / Quest 2
The VRO is a free download for the Meta Quest and Quest 2 virtual reality headsets via the built-in Meta Quest store.
VRO for Google Cardboard
The VRO is a free download for Google Android smartphones via the Google Play store.
The VRO can also be experienced as a 360-degree video via YouTube. Each visit is presented as a playlist for easy access for teachers who wish to focus on specific areas of content.
360-degree videos can be viewed in several different modes, depending on the capabilities of the device:
VR Mode with a 'Cardboard' VR headset
When viewed using a smartphone, you can additionally turn on the 'VR mode' which allows the Virtual Reality Oracle to be experienced using a Google Cardboard headset. Google cardboard is a low cost rudimentary VR headset that is made from – you guessed it – cardboard. These headsets work by putting a smartphone in a specific 'virtual reality' mode that splits the screen in two before being placed in the headset.
'Magic Window' mode
When viewed on a mobile device such as a smartphone or tablet, a 360 degree film will automatically use the in-built sensors of the device to control where the camera 'looks' as it is moved around. This effect is called the 'magic window', as it appears as if you are looking through a window into another world.
Desktop mode
While watching the Virtual Reality Oracle as a 360 degree film on a desktop computer, the view can be controlled using your keyboard (W,A,S,D), or by dragging the screen using your mouse.
CONTENT GUIDANCE: This VR experience was designed for A-Level students (16-18 year olds), but may also appeal to University students studying Classics as well as younger audiences interested in the ancient world, including those working towards GCSEs (14-16 years old). Please follow relevant manufacturer age group and usage guidance. Use of the 'Magic Window' mode and desktop videos to experience the VRO does not carry the same restrictions.
Visit One contains reference to a suspected case of adultery, while Visit Two explores the experiences of enslaved people in ancient Greece. Visit Three makes reference to a suspected murder attempt. Disability in the ancient world is referred to in both Visit One and Visit Two. All the scripts (Visit One, Visit Two, Visit Three) are available on the website and can be checked by an adult if there are any concerns before using the VRO.